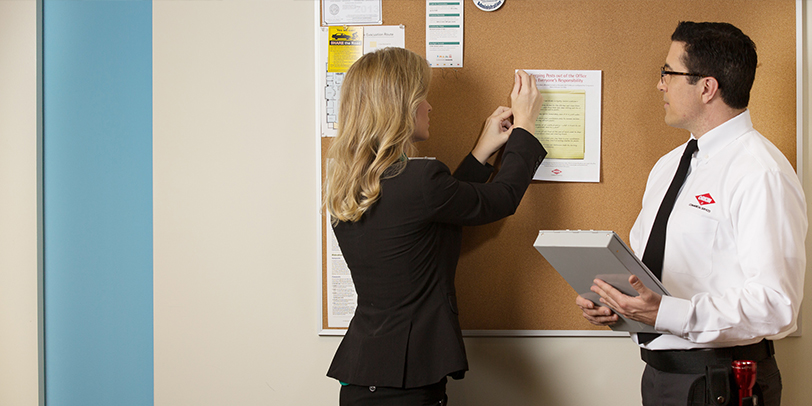 Pests in the Workplace – An Unsettling Distraction
The last thing you want to see in a workplace environment are pests, especially cockroaches in the eating areas and rodents scurrying round the office. As an Office Property Manager you know your tenants may not treat the workplace like their homes, but none of them will tolerate having to work in a pest-infested environment.
Pests Like Offices
Offices often provide all the necessary provisions for pests to thrive: food, water and shelter. Food left too long in a drawer or a cupboard can entice all sorts of pests to make your office space their new home. Landscaping also can provide the perfect spot for rodents to nest, and storerooms are a great entry point for critters.
Pests are Costly
Pest sightings not only affect tenant satisfaction, but they also may threaten rental renewals, which could have long-term impacts on your bottom line.
Tenants want value for their money and a clean place to work. If pests are spotted, you need to respond immediately to address the problem and reassure your tenants. Thankfully, Orkin is nationally recognized as a leader in the field of pest control, so you'll get an Office Precision Protection™ program that's tailored to your individual needs.
Smart People Start with Science
Every office pest problem is unique and requires trained personnel using the latest technology to help ensure your property is getting the most reliable protection. Orkin's Commercial Pest Specialists believe in Integrated Pest Management and adhere to an approach called A.I.M.
Here's how it works:
Assess
The technician starts each service with a discreet, comprehensive inspection to discover why pests are infesting your property. This includes a detailed report that identifies:

Potential pest entry points.
Signs of pest activity.
Any other risks that could leave your property exposed to pests.

Implement
A customized solution will be developed for your unique pest problem.

Orkin will aim to use the most environmentally conscious products.
Help and advice is provided on how you can improve sanitation and exclusion to help eliminate pest attractants.
Our specialists offer staff training options to help your team stay on top of any potential pest issues.

Monitor
Pest control is not a one-time activity — it requires long-term solutions.

Our technicians will conduct regular inspections to help prevent threats of pest activity throughout the property. They'll assess the success of the current program and determine if any next steps are required.
If an area of concern is identified, we'll update your pest management program accordingly.
You will receive detailed documentation throughout the process, so you have a record of what is being done and any proposed steps required to improve your program and reassure your tenants.
Best Training, Best Results
All of our technicians receive more than 160 hours of hands-on training and education on the latest techniques and industry standards — in their first year. Plus, Training Magazine has consistently ranked Orkin as a Top 125 company for our training programs.
We Mean Business
For more than a century Orkin has been at the forefront of pest control. It holds research partnerships with some of the country's leading universities, along with organizations like the Centers for Disease Control and Prevention.